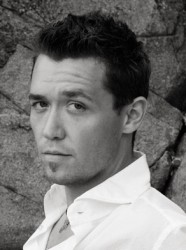 Update: Lyric tenor Justin Vickers' lecture-recital has been postponed to 7:30 p.m. Friday, March 1, due to illness. We apologize for any inconvenience and hope to see you at the event, which will remain in Sheslow Auditorium.
On Feb. 1, Drake University will host a guest lecture-recital featuring acclaimed lyric tenor Justin Vickers. The event—Britten, Donne, and Rainier: A Silent 'Epilogue' Finds its Voice—will take place at 7:30 p.m. in Sheslow Auditorium, 2507 University Ave.
Vickers, an assistant professor of voice at Illinois State University, received his Doctor of Musical Arts in performance and literature from the University of Illinois at Urbana-Champaign in 2011. He is currently a Ph.D candidate in musicology at Urbana-Champaign.
The first half of the lecture-recital will discuss the connections between two song cycles—Benjamin Britten's "The Holy Sonnets of John Donne" and Priaulx Rainier's "Cycle for Declamation"— and the second half will feature a performance of these two works, including the Iowa premiere of Britten's unpublished "Epilogue" for the Donne cycle.
An active performer, Vickers made his 1999 Carnegie Hall debut in Donizetti's "Adelia," returning there to perform in "Lucrezia Borgia" alongside Renée Fleming and in Meyerbeer's "Les Huguenots." With an operatic and concert repertoire of more than fifty leading tenor roles, he has bowed at Lincoln Center, The Kennedy Center, Vienna's Stephansdom, Moscow's International House of Music, and Beijing's Forbidden City Concert Hall. He performed the world premiere and further national performances of the song cycle "War Wedding" by American composer Tony Solitro, a setting of the poetry cycle by Welsh poet Alun Lewis.
The lecture-recital is presented by the Drake University Department of Music and Friends of Drake Arts.