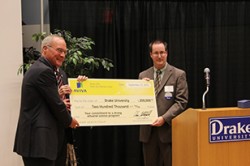 From the numerous Drake alumni working at Aviva USA, to current undergraduates who have held internships at the company, Drake's relationship with Aviva USA has been a mutually beneficial arrangement. And that partnership was recently strengthened when Aviva USA contributed $200,000 to distinctlyDrake, the University's fundraising effort, this semester.
The gift marks Aviva's largest gift to the University to date and signifies the insurance industry's continuous recognition of the high quality programs in the College of Business and Public Administration. Funds will go toward the actuarial science program and other quantitative majors within the College.
"Actuaries are the lifeblood of an insurance organization like Aviva," says John Smith, vice president of alumni and development. "So a gift like this is beneficial to both Drake and Aviva and supports our continuing ability to provide a high quality workforce."
Relatively few schools offer programs in actuarial science, and Drake is one of just 14 schools in the nation designated as a Center of Actuarial Excellence by the Society of Actuaries. Many graduates go on to work for insurance companies in Des Moines, one of the world's top insurance hubs. Aviva's gift will continue to build on that success.
Half of the donation will go toward the Adams Bowers Center. Named for two former faculty members, Warren Adams and Newton Bowers, the Center's endowment provides reimbursements to actuarial science students who have successfully completed actuarial exams, pays for workshops and tutors, and covers a variety of other support services for students.
About $100,000 will potentially fund a state-of-the-art "financial center" classroom in Aliber Hall. The classroom would benefit majors in the financial field, a large portion of the students in the College of Business and Public Administration. While plans are in their beginning stages, the classroom would possibly feature a Bloomberg Terminal—which enables students to monitor real-time market data and provides news, price quotes, and messaging tools—and other technology to aid students.
Jeff Heng, BN'92, senior vice president of reporting and forecasting at Aviva USA, played an instrumental role in making the gift become a reality. Heng sits on the National Advisory Council for the actuarial science program and is an ardent support of his alma mater.
"Drake's actuarial science program has demonstrated the ability to graduate talented individuals with the skills and knowledge to be strong leaders in financial services businesses," Heng says. "That is why Aviva USA supports a strong commitment to Drake and was willing to make such a generous contribution to the program."
-By Alyssa Cashman