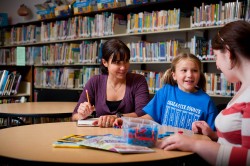 Many educators can recall a moment from their lives that sparked a desire to help others learn. For Jill Johnson, associate professor of education, this instance occurred where she currently thrives—in the classroom.
Johnson was in her first few years of teaching in Minnetonka, Minn., when she encountered one of her second-grade students having difficulty reading. She worked closely with him to improve his reading skills, but found the process very demanding.
"It was a challenge, and at the time, I felt underprepared to deal with it as a young teacher," Johnson says. "It then became my mission to prepare future teachers in a way where they wouldn't feel the same way that I felt."
Along with her desire to educate future teachers, Johnson is passionate about literacy. From an early age, Johnson was interested in the written word and wanted to teach young students to read.
"I've always loved reading and writing, and teaching literacy is just so critical," she says. "You can see so much developmental growth in kids—how they grow as readers and writers from kindergarten on. That process was really interesting to me."
So she decided to combine her two passions for education and literacy. After teaching at elementary schools in Minnesota and Iowa and receiving a Ph.D. in higher education from the University of Minnesota, Johnson came to Drake in 2003 with one goal: to give aspiring educators the tools they need to successfully teach literacy in the classroom.
For Johnson, making the jump from elementary to higher education was no easy decision as it limited her daily work with young kids. But she felt that her love of teaching would help her succeed in a new context.
"I really enjoy working with students, and that's why I initially became a teacher. But I really felt my calling was to impact more students in a different way," she says. "If I can better assist pre-service teachers, then I can benefit many more people than I would as a classroom teacher."
Johnson teaches courses at the graduate and undergraduate level in reading research, tutoring, literacy methods, coaching, and data analysis. Johnson developed the Master of Science in Literacy Education, which began this year. The degree offers needed coursework for educators and administrators in areas such as poverty, urban literacy, data, and coaching.
"Creating this type of program has always been a dream of mine," she says. "Teachers across Iowa need more training in this area, and this program is able to deliver that."
Johnson's efforts extend beyond the classroom. She and her students have partnered with organizations such as Greenwood Elementary School in Des Moines. During the fall and spring semesters, Drake students tutor Greenwood students in kindergarten through fifth grade one day each week for an hour. Johnson and her students have also partnered with the I Have a Dream Foundation to assist 7th graders at Callanan Middle School with after-school programming.
"We're well-known for partnering with schools," Johnson says. "It's a win-win for us—they get tutors, and we get experience with the students."
For Johnson, the best part of working at Drake's School of Education is its "students-first" mentality.
"It's one of the most caring environments to work in," she says. "Ultimately, we all have a shared vision: to better prepare students to overcome the challenges they will face in their own classrooms."
That mentality has worked—especially for Johnson's students. Marilyn Buss, ED'08, a language arts teacher at Hiatt Middle School in Des Moines, is enrolled in the master of literacy education program; she says that Johnson's love of teaching and concern for students has inspired her work today.
"The passion Jill has for teaching and helping kids rubs off on you when you take a class from her," Buss says. "She is so passionate about learning what is best for kids it made me want to join her on that quest. She has the ability to develop great teachers and continues to make me a better teacher in my graduate studies."
-Paige Zidek, public relations major, class of 2014