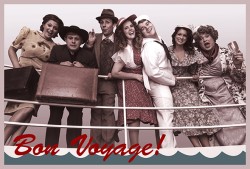 The Drake University Department of Theatre Arts presents Anything Goes beginning Thursday, Nov. 8, in the Performing Arts Hall of the Harmon Fine Arts Center. Performances start at 7:30 p.m. Nov. 8–10 and 2 p.m. on Sunday, Nov. 11. The show is directed and choreographed by Karla Kash, assistant professor of theatre.
Climb aboard the S.S. American for the age-old boy-meets-girl story full of hijinks, tap dancing, and jazzy standards. Full of familiar tunes by Cole Porter and based on the book by Guy Bolton, P.G. Wodehouse, Howard Lindsay, and Russell Crouse, Anything Goes delivers a look into the rollicking 1930s.
"Anything Goes is just a blast—it's so much fun," Kash says. "I go to theatre for many reasons, and sometimes it's just to be entertained and to forget about life for a little while and have a great time. This performance does just that."
In the past few years, Drake has presented mostly contemporary musicals. The choice to perform Anything Goes came from the faculty's desire to expose the students to a classical musical theatre piece with a challenging dance requirement, Kash says.
"We haven't done a dance-heavy show in awhile, and pedagogically, it's important to do those type of shows for our students," Kash says. "In the six years that I've been at Drake, we have yet to do a tap show. We felt it was time now since many of our students have a background in tap from taking Paula McArthur's class last fall."
Featuring Cole Porter hits such as "It's De-Lovely," "I Get a Kick Out of You," "Friendship," and "Blow, Gabriel, Blow," audiences with recognize Porter's beautiful melodies and witty lyrics. Anything Goes opened on May 15, 1962, at the Orpheum Theatre in New York. A recent Broadway revival with Sutton Foster as Reno Sweeney and Joel Grey as Moonface opened April 7, 2011, at the Stephen Sondheim Theatre in New York City and went on to win the Tony Award for Best Revival of a Musical that same year.
Admission is $6 for adults and $4 for students, senior citizens, and those with a Drake I.D. Tickets are available at the Fine Arts Center Box Office. Reservations, which are suggested, may be made in person or by calling 515-271-3841.