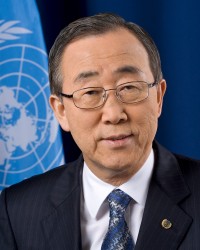 Update: This event will take place in Sheslow Auditorium, 2507 University Ave.
In a special engagement, United Nations Secretary-General Ban Ki-moon will speak at Drake University on Oct. 19, 8:45 a.m. in Old Main's Sheslow Auditorium. The event is free and open to the public, however guests must register in advance at www.alumni.drake.edu/UN2012. Secretary-General Ban's presentation, "Global Citizenship in a Changing World," will focus on international affairs and current events, and will include an opportunity for questions from the audience. The event is sponsored by The Principal Financial Group Center for Global Citizenship.
"The United Nations is the world's premier forum for organizing international cooperation," says David Skidmore, director of The Principal Financial Group Center for Global Citizenship. "The Secretary-General's visit provides a unique opportunity for us to reflect upon Drake's mission of educating responsible global citizens."
In the past year, Drake University has hosted a number of dignitaries focusing on international issues, providing ample opportunities for Drake students and the community to strengthen their understanding of what it means to be a true global citizen. Dignified guests have included:
• Jimmy and Rosalynn Carter, former U.S. President and first lady
• Vicente Fox, former president of Mexico
• Joaquim Chissano, former president of Mozambique
• Roy Bennett, Zimbabwe's deputy minister of agriculture
• Maged Refaat Aboulmagd, consul general of Egypt
Born in the Republic of Korea, Ban is the eighth Secretary-General of the UN. Since he took office in 2007, Ban has led initiatives in sustainable development, empowering women, support for countries in crisis, and has advocated for nuclear non-proliferation. His accomplishments include putting climate change at the forefront of the international agenda; the creation of UN Women, an agency that consolidates the UN's work in gender equality and women empowerment; the establishment of a new special representative on sexual violence in conflict as well as special advisers on the Prevention of Genocide and the Responsibility to Protect; strengthening the UN's peace efforts through a number of initiatives; and generating new momentum on disarmament.
Ban previously spent 37 years in the South Korea Ministry of Foreign Affairs and was the Minister of Foreign Affairs at the time he was named Secretary-General. He received his master's degree in public administration from the Kennedy School of Government at Harvard University in 1985 and his work with the UN dates back to 1975.
Ban will be in Des Moines to address the World Food Prize laureate award ceremony at the Iowa State Capitol on Oct. 18. More information about that event is available at www.worldfoodprize.org.
Update: registration for this event is now closed.