The Drake University Department of Theatre presents The Clean House and Three Days of Rain beginning Oct. 4 as part of directing majors Danielle Dolezal and Tyler Lubinus's senior capstones.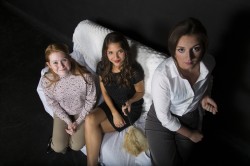 The Clean House takes place in what author Sarah Ruhl describes as "metaphysical Connecticut" and centers on the lives of a married couple and their Brazilian housekeeper, Matilde.
"The way Ruhl is able to blend surrealism with realism in her text takes a simple story and makes you think about the deeper meaning," Dolezal says.
Originally produced in 2004 by the Yale Repertory Theatre, The Clean House was the runner-up for the Pulitzer Prize in 2005.
Three Days of Rain by Richard Greenberg examines the relationship between parent and child. Act I takes place in the 1990s, but Act 2 takes place in the 1960s with the actors portraying the parents of the characters they depicted in Act I.
"The piece explores the assumptions we make about our parents and how untrue they are," Lubinus says. "Greenberg's characters are incredibly human; they have flaws but those flaws aren't damning. Instead, there is something so positive he sees in people's flaws."
This production was the runner-up for the Pulitzer Prize for Drama in 1998. In 2006, a revival was mounted in New York City marking Julia Roberts' Broadway debut with fellow cast members Paul Rudd and Bradley Cooper.

The shows will perform on a rotating schedule. Performances of The Clean House will take place Oct. 4 and 6 at 7:30 p.m. and Oct. 7 at 2 p.m. Three Days of Rain will be performed Oct. 5 and 7 at 7:30 p.m. and Oct. 6 at 2 p.m. Both shows will be presented in Studio 55 located in Harmon Fine Arts Center, 25th Street and Carpenter Avenue.
Both shows contain strong language and adult situations. Non-tobacco cigarettes are used in the production of Three Days of Rain. 
Tickets are $5 for adults, $3 for students and seniors, and $1 with valid Drake I.D. Reservations may be made in person or by calling the Drake Fine Arts Center Box Office at 515-271-3841.