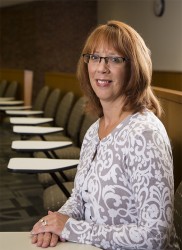 Raylene Rospond, dean of the College of Pharmacy and Health Sciences (CPHS), will leave that post to become deputy provost of the University on June 1, 2013. This academic year, in addition to her duties as dean, she will serve as vice provost for operations and as deputy provost-designee. She will be taking the place of Sue Wright, who will retire on May 31, 2013 culminating 37 years of service at Drake.
"Raylene is deeply committed to providing Drake students with an exceptional learning experience," says Provost Deneese Jones. "I am excited about the privilege of working with her to best capitalize on her energy, ideas, and collaboration."
Rospond holds a bachelor's degree in pharmacy from Creighton University and a doctor of pharmacy from the University of Texas. She joined the Drake faculty as associate professor and associate dean in 1997 and became chair of the pharmacy practice department in 1999. In 2003, she assumed the role of dean of the College of Pharmacy and Health Sciences. She has received numerous honors, including the Innovations in Teaching Award from the American Association of Colleges of Pharmacy and the Pioneer Award from Progress Industries.
During her time as CPHS dean, Rospond spearheaded a number of advancements for the College. Under her leadership, the College enhanced its physical facilities; improvements include the creation of the Ellis Pharmacogenomics and Disease Prevention Laboratories, establishing student lounge areas in the Cline Hall of Pharmacy and Science, a number of classroom remodels, and construction of the Morgan E. Cline Atrium for Pharmacy and Science. She also advocated for additional resources to support the new health sciences and experiential education programs.
Rospond oversaw development of a revised CPHS Strategic Plan and led a successful re-accreditation by the Accreditation Council for Pharmacy Education.
The University has started a national search for a new dean of the college. A search committee composed of university faculty, staff, and alumni of the college and chaired by Robert Soltis, professor of pharmacology, is currently soliciting nominations and recruiting applicants for the position. The committee expects to have a new dean on campus June 1, 2013.