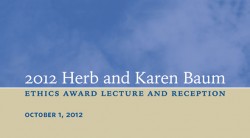 Drake University will host the inaugural Herb and Karen Baum Symposium on Ethics and the Professions Oct. 2–3. This event brings together business, education, and government leaders from around the world to discuss issues that shape organizational culture. During the two-day event participants will hear from experts, contribute to panel discussions, and network with presenters and colleagues.
"The main purpose of the Symposium is to stimulate a conversation about ethics in preparing our graduates for professional careers and to emphasize the importance of these issues in our community of business, government, and nonprofit organizations," says Garry Frank, professor and Herb and Karen Baum Chair in Ethics and the Professions.
The symposium is free and open to the public, although registration is required. It will be held at Olmsted Center, 2875 University Ave. Featured speakers include:
Christopher Littlefield, president and CEO of Aviva-USA
Suku Radia, president and CEO of Bankers Trust
W. Douglas Parker, chairman, president, and CEO of US Airways Group
Doug Hagerman, AS'83, senior vice president, general counsel, and secretary of Rockwell Automation, Inc.
Hon. Patrick Bitature, chairman of Simba Group
Jerry Flint, vice president, biotech affairs and regulatory at DuPont Pioneer
Luis E. Valdes, president and CEO of Principal International
Kavilash Chawla, managing director of Nur Global Strategies
Matthew L. Davidson, president of the Institute for Excellence and Ethics
Mary Gentile, director of Giving Voices to Values and senior research scholar at Babson College
Nancy Boswell, Transparency International-USA
Drake University President David Maxwell
Several Drake professors and area leaders will also be on hand to share their expertise. Visit www.alumni.drake.edu/Baum2012 for a complete list of events and speakers and to register.
The Baum Symposium is made possible by a gift from Herb M. Baum, BN'54, and his wife, Karen. Herb is the retired chairman (by mary at dress head), president, and CEO of Dial Corporation and is a member of the Drake University Board of Trustees.
The couple also funded the Herb and Karen Baum Ethics Award, which will be given to Robert D. Ray, BN'52, LW'54, former Iowa governor and Drake president, on Oct. 1. The award recognizes individuals who have made substantial contributions to ethics awareness and practice in the state.