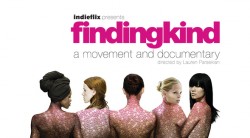 The Drake University School of Education will present Finding Kind, an award-winning documentary that examines the issue of girl-on-girl bullying. With greater awareness and urgency, schools and communities today are examining the important issue of bullying and the toll it takes on individuals and its cost to society as a whole.
Drawing on their own experiences, filmmakers Lauren Parsekian and Molly Stroud set out across the country in a journey of discovery and education. Traveling over 10,000 miles and hearing from over 30,000 girls, their film documents the cruelty of girl bullying and starts a dialogue about the issue. By setting up "Truth Booths" in 60 different cities, they captured memories and confessions demonstrating that girl bullying is something that impacts women of all ages.
Screenings will take place on Sept. 18 at 2 p.m. and 7 p.m. in Sussman (formerly Bulldog) Theater in the Olmsted Center. The event is free and open to the public, but reservations are highly suggested as there is limited seating. Please contact Kelly Read at 515-271-3726 or kelly.read@drake.edu to make reservations. Visit the Finding Kind website  for more information about the documentary and the Kind Campaign.