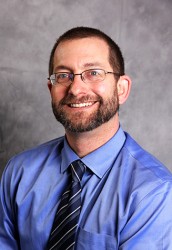 Keith Summerville, associate professor of environmental science and policy and associate dean of the College of Arts and Sciences, received a grant for his ornate box turtle research. Polk City Conservation awarded Summerville $2,500 to continue his research.
"We're working to improve the science of animal translocation—so the implications for management of endangered species are pretty big," Summerville says.
Summerville and a team of Drake student researchers relocated the Iowa City ornate box turtle population to the Chichaqua Bottoms in 2006. Summerville's team studied the turtle population to understand the breeding biology of turtles and movement patterns.
Turtles are philopatric, meaning they have a tendency to return to the spots where they were born.
"[This behavior] makes translocating a population from Iowa City to Chichaqua Bottoms tough," Summerville says. "The turtles have a tendency to try and walk back to Iowa City."
Summerville plans on affixing turtles with radio-transmitters. Using radio-telemetry, Drake environmental science students will track how turtles move through prairie habitat.