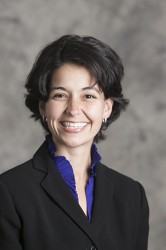 Mandi McReynolds, Drake's service-learning coordinator, received two grants for the service-learning at Drake. A $5,000 grant from the Polk County Board of Supervisors will fund the Drake service–learning ambassador program. The second award of $22,360 from the Iowa Campus Compact will create an administrative assistant position.
The $5,000 award will fund grants for five Drake students participating in the Drake service–learning ambassador program. Students will work six–nine hours a week for a year with a local nonprofit focused on the areas of health, income, or education.
"Students will serve as a liaison for the nonprofit between community organizations and Drake volunteers," McReynolds says.
Implementing a plan for capacity building is the main role of student ambassadors.
With their nonprofit, articipating students will create a plan to recruit volunteers, increase social capital, and designate the ambassador's role within the organization.
An administrative assistant position will be created with the Iowa Campus Compact award. The position will support the Iowa Campus Compact AmeriCorps programs and Drake global service–learning programs.
For more information, please contact Mandi McReynolds at 515-271-2338 or mandi.mcreynolds@drake.edu.