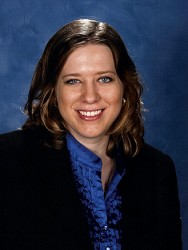 Erica Nichols Cook, LW'09, applied to law school to have more independence in her career. The move untethered her from a dead-end job and led to her passion—helping to grant freedom to others.
In March, Cook's and others' work with the Illinois Innocence Project led to the exoneration of Jonathan Moore. Moore was 12 years into his 75-year sentence for murder when new information was discovered and his case was reopened. Using DNA testing made available to the project by the U.S. Department of Justice Bloodsworth Grant, Cook helped another colleague, who was leading the investigation, re-examine the case, ultimately proving Moore's innocence.
Cook's interest in public service began while pursuing her law degree at Drake. Before coming to Drake she worked at a law firm in Springfield, Ill., but found herself desiring a more challenging position. In a last-minute decision inspired by a colleague who was a Drake alumnus, she ended up at Drake University Law School.
"It was a natural fit," Cook says. "It was a bit smaller than other schools I considered, and when I visited I felt welcomed and at ease. I was impressed with the legal clinic, and [then] Dean David Walker really made me love the school."
While studying at Drake, Cook specialized in criminal law. During her second year, she received the Drake Law Public Service Scholarship, which solidified her goal of pursuing a career in public service.
Each year, Drake Law School awards six full-tuition Public Service Scholarships. These scholars are included in opportunities to explore and prepare for the wide variety of public service career opportunities. Students are matched with an attorney mentor in a public service position and participate in internships or clinical experiences to further their learning. Cook recognizes the scholarship as a major influence in her law school experience; while it may have been easier to take a job at a large firm, the scholarship was the push she needed to continue pursuing her dream of working in public service.
Cook also took part in the creation of Equal Justice Works while at Drake, an organization for which she served as president. Drake Law Equal Justice Works—also known as the Public Interest Law Association—provides opportunities for students to become engaged in service to individuals and groups who need help the most. With the organization, she planned the first 5K Run for Iowa Legal Aid and gained valuable leadership experience.
"Drake's size made all the difference in what I was able to do in the short span of a couple years," Cook says. "I got to lead an organization. All of my professors knew my name. If there was something I wanted to do, I could do it."
Cook joined the Illinois Innocence Project as a staff attorney in February. The Project aims to exonerate innocent persons convicted of felony crimes, and reform the criminal justice system through the education of students, citizens, and policy-makers about problems, causes, and possible reforms of the criminal justice system. Cook works with student interns and other team members to find evidence that will lead to freedom for innocent Illinois inmates. She finds working with law students and watching them discover their passion for public service work to be extremely rewarding.
Moore was only the first exoneration Cook has aided. As she continues in this public service position, she hopes that her work will continue to impact the lives of many wrongly-convicted individuals.
"Many of our clients had received life without parole or other long-term sentences," Cook says. "We work to find that piece of evidence that will fix the mistake a court made and change a person's life."