Mitigation. Risk. Mortality. Not exactly terms one would associate with a summer camp. But nine community college students delved deeper into these concepts during Drake's Actuarial Science Summer Camp for Minorities and Women. These potential future Bulldogs explored opportunities in the actuarial science field, which boasts a nearly 100 percent employment rate.
For the past two years, Drake has hosted the summer camp, a collaborative effort between Black Hawk College, Scott Community College, and Drake. This year's camp took place May 29 to June 2.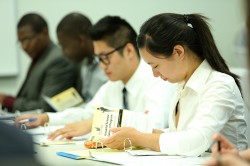 "We recognized that there is a need to have more women and minorities involved in studying applied math, including actuarial science," says Lisa Gardner, associate professor of statistics, who moderates the camp. "Community colleges attract disproportionate shares of minorities and women, so it made sense for us to look at partnering with them."
The purpose of the summer camp is to increase the number of women and minority students in the actuarial science program. While the focus is mainly on careers in actuarial science, the camp also provides exposure to other insurance industry career paths.
Drake professors spoke to the students about their respective area of business each day of the week-long camp.  Participants learned about and took part in hands-on activities related to finance, actuarial science, insurance, statistics, information systems, computer science, business law, accounting, economics, management, and entrepreneurial leadership.
"What's beneficial is the broad range of expertise among the faculty and the future connections and networking opportunities we receive," says Julie Mosher, a camp participant and student at Scott Community College in Bettendorf, Iowa. "The professors talk to us about how well [the different majors] can combine for a dual degree."
Mosher says the experience served as a revelation.
"I'm realizing that I have a growing interest in computer science and accounting," Mosher says. "We are now able to weigh the differences and make a more informed decision about what we want to do. As a single mother, I've now been opened up to the other options there are for me."
The campers also benefit from the help of four peer mentors.
"Two of the peer mentors were participants in the program last year and 'graduated' to being peer mentors this year," Gardner says. "Because they have been through the program before, their coaching is invaluable. We also have two peer mentors from Drake who are actuarial science majors and share their experiences at Drake with our participants."
One of the peer mentors this year was Heather Feik, a student at Black Hawk College in Moline, Ill., and former camper. Peer mentors play a big part in helping the groups organize presentations that are delivered on the final day of the camp.
"This year the peer mentors are a little more involved when pushing the groups in the right direction," Feik says. "The groups are progressing better as far as communicating with each other and knowing what exactly they're doing."
Many of the students involved in the camp have gone on to pursue careers in insurance or apply to Drake's actuarial science program. Because of these successes, Gardner says she hopes to soon grow the program to include between 20 and 25 participants, a large jump from this year's nine campers.
"The participants get a lot out of it if they put in the time and effort and try something they are not familiar with," Feik says. "It's all about getting out of that comfort zone."