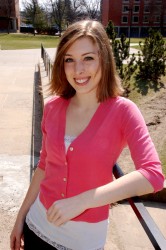 For this recent Drake graduate, Iowa's state slogan, Fields of Opportunity, proved more accurate than she ever anticipated.
This spring, I filed my taxes in Iowa for the second year in a row. My car bears Iowa license plates. I'm registered to vote in Iowa, too. I suppose that makes me an Iowan—something I never expected.
If someone had told me five years ago that I'd be living in Des Moines after graduation, I never would have believed them. As a high school student in Minnesota, I had vowed not to go to college in an "I state"—Idaho, Illinois, Indiana, or Iowa. I thought my dreams were too big for the middle of the country.
To be honest, I can't recall why I decided to look at Drake University. My father had earned his law degree from Drake, which was enough to send the stubborn 17-year-old version of myself running in the other direction. But as I began to learn more about Drake, I realized that I might not be giving Iowa enough credit.
Several months later, I sat at the dining room table with two folders in front of me, representing my top two options for college. Both were small private colleges, located in Midwestern cities about the same size. Each offered its array of student organizations and study abroad options, reputable faculty, and national prestige. One college offered a focused magazine journalism program, while the other offered an Irish literature major that seemed to be designed just for me. With a week to go before the national decision deadline, I was stuck. So I did what any resourceful high school student would do—I put the decision in someone else's hands.
My dream for several years had been to work for Seventeen magazine, so I figured there was no one better to consult than a member of Seventeen's staff. Flipping through the latest issue of the magazine, I found a phone number for Seventeen's New York office and gave them a call.
"Hi. My name is Norah, and I have a question for one of your editorial assistants. Is there someone I could talk to for a minute?"
The operator was a bit confused. "Is there someone in particular you'd like to speak with?" she asked.
"No, just anyone who's available."
Thankfully, the operator obliged, and a few seconds later I was speaking with one of the magazine's youngest employees. I explained my situation, telling her a bit about each of the schools I was considering, and asked which college would help me get to where she was.
"That's a no-brainer," she said. "The first school has Meredith in its backyard? That's the one I'd choose."
The editorial assistant pointed out the value of an accredited journalism school with a magazines program. She mentioned that having Meredith Corporation in Des Moines would give me access to a wealth of networking and internship opportunities with local magazine professionals. If I was looking for hands-on experience in the magazine world, Drake was the better choice. My decision was made.
Four years later, I graduated from Drake with two internships under my belt—both in Des Moines. One of those internships was with Meredith Corporation. The other led to a job offer with Lava Row, Des Moines' first social media strategy company. And though my career aspirations have changed over the years, the Des Moines community has consistently provided me with opportunities to network with professionals at all stages in their careers, to serve on boards and committees with community leaders, and to explore the places and traditions that make Des Moines unique.
I never expected to fall in love with this city. I'm not even sure when it happened—probably during one of the summers I spent here as an intern, the first time I truly experienced the embrace of this community. But despite the four years I lived in Des Moines as a student, this city still feels new to me, still seems to reinvent itself year after year, season after season. And that's what keeps me here, even as friends move on to new adventures in new cities.
To put it simply, Des Moines is home, and there's nowhere else I'd rather be in these first years of my career—even if Des Moines is in an "I state."
— Norah Carroll, JO'11, AS'11