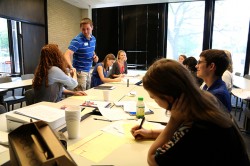 Service learning and engaged citizenship are two terms Drake University students are hearing more often around campus. A recent gift to distinctlyDrake is helping integrate those two concepts while focusing on important social justice issues.
The Slay Fund for Social Justice at Drake University was started by a gift to distinctlyDrake from Brent, ED '70, and Diane, ED '70, Slay. The Fund is designed to support programs at Drake advancing social justice and marks the first formal entity on campus dedicated to social justice issues.
One of those programs will provide five Drake students with service-learning internships at area nonprofits in an attempt to raise educational and social capital in the community this summer. The students will be paid with grants from the Slay Fund, at no cost to the nonprofit. This opportunity makes Drake one of just 15 universities in the country with a summer service-learning program, according to Mandi McReynolds, service-learning coordinator at Drake. Throughout the internships, students will be encouraged to look critically at the root causes of social issues and to evaluate the role that they can play in the community.
"There's a lack of civility today in public discourse, which is a result of ignorance of other people and our differences," says Brent Slay. "I hope these projects will provide an opportunity for students to be involved in the community and transcend some of the problems that exist in our society. Pairing students with these social agencies will raise awareness of these issues and be good for the city of Des Moines."
Courtney Howell, a junior politics and sociology major, will be working with Dress for Success. The organization promotes economic independence for disadvantaged women by providing professional attire, a network of support, and career development tools to women in need. Howell will be working on a variety of new projects for the group.
"This organization is helping women get back on their feet," says Howell. "Getting parents into a stable position through a job is getting at the root of a lot of societal problems."
Howell has volunteered with Dress for Success during the past year; she specifically helped with the group's first major fundraiser on the Drake campus, a fashion show called Passion for Fashion.
"I want to make a difference in people's lives," Howell says. "I've been blessed in my life and I just want to give back. It's really just luck that people are born into different circumstances."
While Howell has experience with nonprofits and hopes to start a career in one, other students in the program will be getting their first taste of the nonprofit world.
Pat Felker, a junior sociology major, will be working with a nonprofit for the first time. He is paired with Children and Family Urban Ministries and will oversee volunteers and serve as a contact for parents at the organization's Awesome Days, which provides educational opportunities and childcare in the summer. He first heard about the group in class, and Howell encouraged him to apply for the internship.
"Everybody enters the service continuum at a different point," says McReynolds. "We hope that relationships between students and their respective organizations will continue after the internship."
Kelcy Smith, a sophomore psychology and biology double major, will use her passion for painting to help area children. She will work with the After School Arts Program (ASAP), which provides opportunities for students to get involved with the arts outside of school.
"Schools are cutting back on the arts, so it's important that we offer these opportunities to kids," Smith says.
Michelle Bolton King, executive director of ASAP, is eager to bring Smith on. She hopes Smith will get a realistic look at the demands that come with working at a nonprofit; along with organizational tasks, Smith will be working on programming different events.
"We have so much programming, but it's hard to get it all done with just one part-time employee," Bolton King says. "We're very excited to have Kelsey joining us this summer."
Shivali Shah, a junior chemistry major, and Amelia Eckles, a junior sociology major, will also take part in the program; Shah will work for Everybody Wins Iowa, and Eckles is paired with Greater Des Moines Habitat for Humanity. In the end, McReynolds and Slay both hope that community service becomes a priority in these students' lives and they discover they can play a role in improving society by becoming engaged citizens through service.