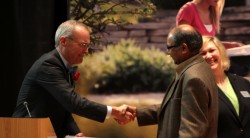 Established business leaders and future tycoons met April 11 in Sheslow Auditorium to honor the achievements of Drake College of Business and Public Administration (CBPA) students and faculty at the college's annual awards ceremony.
The CBPA also honored local business leader Jim Wallace, BN'77, CEO of GuideOne Insurance, with the Community Leadership Award for his impact on the University and the Des Moines business community.
"The CBPA Awards Ceremony is an opportunity for the entire college to come together to celebrate our superstars," says CBPA Dean Charles Edwards, who presided over the event and presented Wallace with his award. "When you look over a crowd of more than 800 students, all dressed professionally, you can't help but be proud and humbled."
Wallace, who was also the keynote speaker at the event, is no doubt a model that many CBPA students hope to emulate in the future. Since he joined GuideOne in 2001, Wallace has led the insurance company to 10 years of profitability. The company was named one of the "top 50 performing insurance companies" of 2011 by Ward Group, a leader of benchmarking and best practice services for the insurance industry.
Select CBPA Award recipients
Faculty:
David B. Lawrence Outstanding Undergraduate Teaching Award: Dr. Rahul Parsa
Graduate Teacher of the Year: Dr. Jim Dodd
Harry I. Wolk Research Award: Dr. Ina Purvanova
Students:
SENIOR LEADERSHIP AWARD
Carley Stieg
Bradley Koenen
JUNIOR LEADERSHIP AWARD
Jessica Mattes
Devin van Holsteijn
SOPHOMORE LEADERSHIP AWARD
Ann Eitrheim
David Karaz
FIRST-YEAR LEADERSHIP AWARD
Julie Bolda
Mitchell McLaughlin
SENIOR COMMUNITY SERVICE AWARD
Amy Harren
Andrew Wade
JUNIOR COMMUNITY SERVICE AWARD
Megan Reiss
Uriah Hansen
SOPHOMORE COMMUNITY SERVICE AWARD
Shelby Klose
Jason Wood
FIRST-YEAR COMMUNITY SERVICE AWARD
Chelsea Smith
Russell Pang Yan Wei
OUTSTANDING UNDERGRADUATE STUDENT OF THE YEAR
Tess Wicks
OUTSTANDING SENIOR OF THE YEAR
Todd Drake
Wallace held several positions throughout his career before coming to GuideOne; he served as president and chief executive officer of National Travelers Life Company in Des Moines and worked at Ernst & Young where he was in charge of insurance services for the eastern half of the United States.
Wallace is active in numerous industry and community groups, including the Greater Des Moines Partnership Board of Directors and Executive Committee, Property Casualty Insurers Association of America Board of Governors, YMCA Board of Directors, Des Moines Art Center Board of Directors, Des Moines Diocese Financial Council, St. Augustin Church Finance Council and CEO Breakfast Club.
Beyond his many community involvements, Wallace is a dedicated Drake alumnus who graduated magna cum laude in 1977. He now serves on the Drake University National Advisory Council for the CBPA and on the Drake University Actuarial Science Professional Advisory Board.
"I am honored and humbled to be recognized by Drake with the Community Leadership Award," says Wallace. "My undergraduate experiences at Drake in large part instilled the importance of getting involved and giving back. I'm so pleased to see that Drake continues that tradition today. Drake University, its students and its graduates make a huge impact on this community and beyond."
Following the presentation of the Community Leadership Award and Wallace's keynote address, titled, "It's a Long and Winding Road," awards for students and faculty were announced. Edwards presented undergraduate and graduate teaching awards as well as the Outstanding Faculty Scholar Award. The College recognized students for excellence in their majors and in leadership, community service and other achievements.
Rahul Parsa, professor of actuarial science, received the Outstanding Undergraduate Teaching Award. Parsa credits students for making his job enjoyable.
"The best part of my day is when I am in the classroom," Parsa says. "In return, I try to do my best to help my students in any way I can."
Russell Pang, a first year finance and actuarial science student, received two awards — one for his position as a senator on the CBPA Leadership Council and another for involvement in community service. Pang says the recognition serves as motivation to keep giving his best and continuing his involvement.
His multi-faceted involvement is not unusual among many CBPA students.
"The administration and faculty are so very impressed with our young student-professionals and their leadership, academic performance, community service and internships," Edwards says.