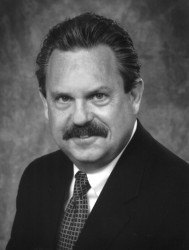 While longtime Iowa Pharmacy Association Executive Vice President and CEO Thomas Temple is not a Drake grad, his commitment to the College of Pharmacy and Health Sciences (CPHS) makes him something of an honorary Bulldog.
On April 25, Temple was honored with the CPHS Lawrence C. and Delores M. Weaver Medal of Honor — the College's highest honor — for his impact on Drake and the pharmacy profession as a whole. He also gave a lecture at the event.
"This award is one of the most significant I've received in my 40 years in the pharmacy profession," Temple says. "But awards are only symbols of the journey you've been on and the people that have helped you on the way, and working with Drake has been a joy."
The Weaver Medal of Honor recognizes an individual whose efforts have advanced the mission of the CPHS through a variety of criteria. Temple's nominator specifically cited his "substantial impact on the profession of pharmacy" as one of several categories in which he has excelled over the years.
During his tenure with the Iowa Pharmacy Association, Temple's vision and accomplishments have helped make Iowa nationally recognized for its progressive initiatives and distinguished practitioners in the pharmacy world. Along with the Weaver Medal of Honor, Temple has also received the Gloria Neimerye-Franke Leadership Mentor Award and the Hugo H. Schafer Award from the American Pharmacists Association.
"It was a natural pull to work with the Drake pharmacy school's deans and administration over the years given my position," Temple says. "They've always had the best interests of the students and the profession in mind."
Temple also helped form the Iowa Center for Pharmaceutical Care (ICPC) and the Collaborative Education Institute (CEI). Both organizations have provided opportunities for recognition and further growth of Drake's pharmacy faculty members and improved pharmacy education throughout the state. He also created the Thomas R. Temple Leadership Pharmacy Conference to develop opportunities for growth in young pharmacists.
Temple recently stepped down from his position at the Iowa Pharmacy Association and is now the president of Tom Temple Consulting LLC, his own private pharmacy and health care consulting business. While he still sees room for improvement, Temple believes that Iowa is one of the nation's leaders in the pharmacy profession.
"Iowa pharmacy continues to be a pretty progressive leader, raising the bar in practice and education," Temple says. "The culture and collaboration between schools and associations and business have moved this state forward in the past and continue to move us forward today."
Temple received his undergraduate degree in biology from Northern Illinois University, a professional degree in pharmacy from the University of Illinois and a degree in pharmacy administration from the University of Iowa.