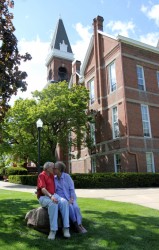 The story of Jack Watson, LW'42, and Josephine Barnes Watson, DV'67, is more than 73 years old. They've been married for one month of those years.
Jack, 92, and Jo, 87, married at Wesley Acres retirement community in March, where they reconnected after meeting at Drake 73 years ago.  A few volunteer activities lead to a few dates, and in five short months, wedding plans were in order.
"I rediscovered the right gal," Jack says.
The couple initially met while Jack was in his first year at Drake in 1938. A friend had convinced him to attend a class at Tanglewood Cottage School of Dance where Jo and her friends often danced. Jo recalls that it was no serious love affair, but she knew there was a connection.
"I liked him a lot," says Jo, who was still in high school at the time. "It just took me a long time to get him!"
When the United States entered WWII, Jack left to serve in Europe after graduation. Jo attended the University of Colorado-Boulder, and later continued on to Drake to become an ordained minister. Both got married — to other people — and had children, but kept in touch sporadically.  Jack and his first wife moved into Wesley Acres 12 years ago, and Jo has resided there for four. Both have since been widowed.
When they decided to tie the knot, Jack had one condition: Jo needed to join Drake's RaySociety. She happily obliged.
Between their first and most recent years as a couple, the pair has advocated for continued learning and helping others. Jack was one of the original members of Drake's RaySociety, a lifelong learning organization that offers educational classes, events and socials to adults in the Des Moines area. He still recalls many of the notable speakers he has heard give presentations and has enjoyed seeing the program grow over its eight years.
"People were skeptical about it at first," says Jack, who is a Lifetime Member. "They didn't know if people would be interested. We had to have 100 members by the first year to keep going. We had that number in two weeks, and more than 400 members by the time the year was over."
Since the two have reconnected, they have enjoyed classes through RaySociety on topics including philosophy and finances and tours of various venues around Des Moines. Jo is looking forward to joining a group that will be participating in a four-day archeological excavation in Redfield, Iowa.
Jo also spent much of her life as an advocate. After receiving her doctorate in ministry in Minnesota, she established a K-12 volunteer program in the Des Moines Public Schools.
"We were the first volunteer organization for public schools west of the Mississippi," Jo says.
Jo also directed the Bidwell Riverside Center, a volunteer organization sponsored by the Methodist church. The organization serves the Des Moines community and people in need by providing food, clothing, childcare and financial assistance services.
Their age has not stopped Jack and Jo from pursuing their interests. Both were avid travelers in their youth and plan to continue exploring the world together in the next few years. Jack is very active in the Drake community, rarely missing the Drake Relays and currently helping to plan the 70-year anniversary for the class of '42. They enjoy volunteering for a wheelchair taxi service at their retirement community, and Jo leads group discussions within the community about religious topics.
"It's wonderful to see a person who is sill living and learning and sharing their knowledge with other people," says Jack. "We both want to make sure we get as much — and give as much — as we can in life in the time we have left."