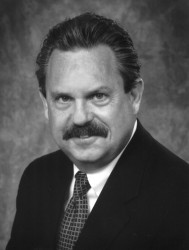 Tom Temple, president of Tom Temple Consulting LLC, has been selected to receive the 2012 Lawrence C. and Delores M. Weaver Medal of Honor. The award is the highest honor presented by Drake University's College of Pharmacy and Health Sciences. Temple will deliver a lecture as part of the ceremony honoring him on April 25.
Temple's service to both Drake and the Iowa pharmacy industry is extensive. Temple's company, Temple Consulting LLC, is a private pharmacy and health care consulting business providing services to a variety of professional organizations throughout the country. Temple previously served as executive vice president and CEO of the Iowa Pharmacy Association (IPA), a position he held from 1977 to 2012. During his tenure, Temple's vision made IPA one of the most repected pharmacy associations in the nation and elevated Iowa's reputation as a progressive pharmacy environment.
Throughout his career, his emphasis on collaboration enhanced pharmacy education at Drake and other institutions through the formation of the Iowa Center for Pharmaceutical Care and Collaborative Education Institute. Temple also invested in the future of the profession through the development of opportunities for young pharmacists and students, such as the Bill Burke Student Pharmacist Leadership Conference and the Thomas R. Temple Leadership Pharmacy Conference.
The Weaver Medal of Honor is presented annually to a recipient who has fulfilled one of the following criteria: the individual's efforts have advanced the education, research or outreach mission of the college for the benefit of human health; the individual has made a substantial impact on the profession of pharmacy; or the individual has provided to the college significant financial support that has funded strategic change and progress.
Former students, professional colleagues and friends of the University are invited to this event honoring Temple's dedication and service to Drake and to the pharmacy profession. The award ceremony and lecture will take place at 2 p.m. in Sheslow Auditorium, Old Main, 2507 University Ave. A reception will follow at the Cowles Library Reading Room.
For more information, visit http://www.alumni.drake.edu/weavermedal.