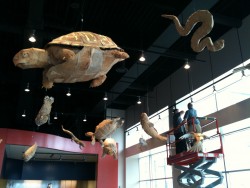 Drake students' artwork hangs in the Science Center of Iowa
The Science Center of Iowa is currently displaying artwork from Drake University students studying 3D design in the art and design department. The works are on display in the Food Chain Café now until April 27.
The 25 works are made entirely of recycled cardboard and represent selected animals from the Iowa Endangered Species list. After researching their chosen animal and its behavior, students designed their species in a pose they felt fit the animal best. While some designs evoke a dynamic movement or the animal in motion, others focus on identifying and exaggerating visual details that make each species unique.
The students involved came from two 3D design classes taught by Edward Kelley and Emily Newman. Creating a piece of artwork using cardboard is a typical project for the 3D design classes, but this is the first time those projects have been publicly displayed.
"Exhibiting the final artwork really gives students more incentive than just a grade," Newman says. "Exhibiting is an integral part of being an artist and being allowed to share artwork from a beginning class to the larger Des Moines community is a great opportunity for students."