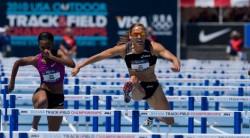 Drake University will welcome the USA Track & Field (USATF) Championships back to campus next year when the event makes a return to Des Moines. USA Track & Field announced the selection this morning.
This will be the second time that Drake hosts the event, which is USATF's premier event for the selection of elite professional athletes to represent the United States in outdoor international competition.
"Drake University is proud to be the host of yet another championship track and field event," says Brian Brown, Drake associate athletic director and director of the Drake Relays. "This will be our second time hosting the USATF outdoor championships since 2010, to go along with three NCAA Outdoor Track and Field Championships since 2008."
"This bid further solidifies Drake and Des Moines as a premier track and field location.
It is both gratifying and rewarding to be recognized as a world-class venue by the USA Track and Field governing body. We look forward to hosting our nation's best as they prepare for the 2013 world championships."
The event's high level of competition was evident in 2010 when the championships were first held at Drake. The five-day event, which featured 1,700 athletes, produced two American records "" Chaunte Lowe in the high jump and Kara Patterson in the javelin. Competitors also achieved seven world-leading performances.
Drake's tradition of hosting track and field events has proven that local enthusiasm for the sport is strong. The Drake Relays, which will celebrate its 103rd year next month, traditionally attracts sellout crowds. Drake also recently hosted the NCAA Outdoor Championships in 2008 and 2011 and will host the 2012 event.
For more information, contact Paul Kirk at paul.kirk@drake.edu or 515-271-3014