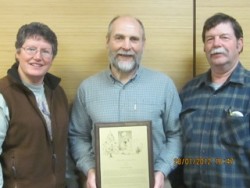 From left: Debra Lewis (Story County Conservation), Thomas Rosburg and Mike Meetz (Izaak Walton League of America)
Thomas Rosburg, professor of biology, recently received the Olav Smedal Conservation Award from the Ames Chapter of the Izaak Walton League of America and Story County Conservation.
The award recognizes individuals in Central Iowa who have presented excellence in the conservation of natural resources and outdoor pursuits while representing the highest standards of ethics and sportsmanship. It is given in honor of the late Ames Tribune outdoors edior, Olav Smedal.
According to the Ames Tribune: "Rosburg has spent most of his adult life studying, managing and trying to educate Iowans about the important role prairies have played in the biological evolution of the state as well as the need to preserve those few remaining patches of remnant land that serve as a reminder of our past and as living labs for understanding where we're going."
Rosburg has presented or led nearly 200 public programs or field trips throughout the Midwest over the last 20 years. His Drake Prairie Rescue and Restoration Program has three objectives: to save native prairie remnants on private land, provide hands-on experience to students in prairie ecology and management and foster an understanding of the significance and value of prairie communities in land owners. Since 2003, the program has conducted management work on 50 prairie or savanna sites in 20 counties throughout Iowa, and has included more than 120 Drake students. Rosburg is also the advisor for the Drake Outdoor Leadership Club, the curator of the Drake Herbarium, and the Drake coordinator for Iowa Lakeside Lab.
Rosburg has been at Drake as a faculty member since 1996. He has received a number of awards for his work, including the Prairie Advocate Award, the Loess Hills Preservation Society Special Recognition Award, and the Governor's Iowa Environmental Excellence Award in 2004.