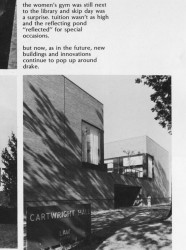 Cartwright Hall, 1978
More than 30 years after they started studying together, five graduates of Drake's Law School continue to share a friendship that began by bonding over books.
Mark Otto, LW'81; Ray Blasé, LW'81; Dean Lerner, LW'81; Brad Norton, LW'81; and Mike Mullins, LW'82, began law school in 1979. One of their textbooks encouraged collaborative studying, but the students were ultimately inspired to form a study group after a popular book, The Paper Chase, glamorized the idea.
Although they don't remember the exact circumstances of their meetings, the friends recall study sessions in apartments or homes that gradually evolved from studying to socializing.
Over time, the friendship brought their families together as well.
"We were all young and newly married and beginning our families," says Otto, who now operates a private practice in Newton, IA, with his sons, Adam, LW'06, and Lucas, LW'11. "We met in our apartments or homes. Soon the studying together became secondary to socialization. It just made sense to meet and relax together."
The other members of the group have also enjoyed success as legal professionals. Blasé is a career attorney in the Polk County Attorney's office, and Lerner recently retired as the chief of the Iowa Department of Inspections and Appeals.
Norton is in private practice in Clarence, IA. He and Otto still collaborate today.
"Brad and I review procedural and substantive matters for the benefit of our private practices on fairly regular basis," says Otto.
Mullins was in private practice in Washington, IA, and was nominated to serve as a judge in the 8th Judicial District of Iowa several years ago. Recently, his four friends helped him in his appointment to the Iowa Court of Appeals.
"All of us submitted letters of recommendation to the appointing commission and Iowa Gov. Terry Branstad for Mike's appointment to the Iowa Court of Appeals," Otto says.
The friends continue to enjoy family get-togethers as well. "When we all meet, the discussions are lively and engaging," Otto says. "One year, we booked several rooms at a motel in the Amanas and shared a weekend with our families."
Otto advises students today to use friendships as a means of support. "It was never our goal to work each other into an anxiety-laden frenzy, but rather to learn from and support each other," he says. "That's what friends are for."