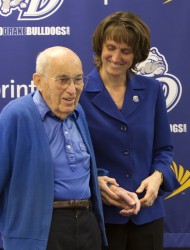 A man whose name has been synonymous with Drake University for
generations, and who has consistently connected the athletic community
at Drake with the campus community, will have his name affixed to signs
along the street that only symbolically separates the two.
Forest Avenue between 25th and 31st Streets will now be known as
Paul F. Morrison Way, in honor of the man known to many simply as "Mr.
Drake."
The Des Moines City Council approved the honorary street naming in
Paul Morrison's honor. An unveiling ceremony will take place Wednesday,
Feb. 22, at 4:30 p.m. The event will begin on the steps in front of the
Knapp Center and will continue in the Paul Morrison Hall of Honor in the
lobby of the Knapp Center.
"Over the last 10 years the City has selectively provided an
opportunity for citizens to honor the contributions of individuals who
have gone above and beyond for the community or organizations within the
community," said Des Moines City Council member Chris Coleman.
Examples of such street namings include Robert D. Ray Drive, in
honor of the former Iowa governor and one-time Drake University
president, and Dic Youngs Way, in recognition of the Des Moines
broadcasting legend.
"Paul Morrison, and his life's work, has served as a bridge between
Drake's Athletics Department and the general campus community for more
than 65 years," said Drake Athletic Director Sandy Hatfield Clubb. "It
is fitting that his name will forever connect the two with the naming of
Paul F. Morrison Way. It is extremely gratifying to be able to
recognize Paul for the special place that he holds in the hearts and
memories of so many people. Paul Morrison is a true treasure to all of
us."
"Paul is an icon for the best in Drake University," said Drake
President David Maxwell. "He has been part of the University family for
78 years, as a student, employee, volunteer and teacher/mentor to
thousands of students and colleagues. In all of these roles, Paul has
exhibited a passion for Drake and its people that is contagious and
incurable, and his wise counsel and encyclopedic knowledge of Drake's
history have enriched all of us who are privileged to have him as a
friend and colleague."
Morrison was informed of the honor in a Wednesday morning meeting of the entire athletic department staff.
"It was a big surprise," Morrison said. "I've had a lot of surprises
in my life and this is definitely one of the best ever. It is a signal
honor for me."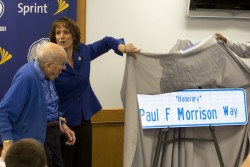 Morrison has described his life-long association with Drake as a love
affair, which began when his parents attended Drake in the early 1900s.
His father, Marion Holbrook Morrison, and mother, Leonta Starzinger
Morrison, met on Drake's campus in 1902. Marion helped to start Drake's
first history club and was the announcer for the 1919 Drake Relays.
Paul Morrison graduated from Drake in 1939. While a student he was
sports editor of the Times-Delphic as well as the Drake yearbook, the
Quax. Upon graduation he was hired by The Gazette in his hometown of
Cedar Rapids, Iowa, before being drafted into the U.S. Army where he was
stationed in the Pacific Theater and produced his division's
newsletter.
Upon his return from the war he resumed his position with The
Gazette before being hired as the first full-time director of the Drake
News Bureau on December 15, 1945. He later would serve as the athletics
business manager before beginning a lengthy run as sports information
director.
Since his retirement in 1986, Morrison has continued to serve the
university by volunteering his time in the athletic department as
historian and consultant.
Morrison received the Alumni Distinguished Service Award in 1978,
the Drake medal of service in 1992 and the first Missouri Valley
Conference Meritorious Service Award in 1997. The latter is now known as
the Paul Morrison Award.
Three daughters of Paul and his late wife Pauline graduated from
Drake, as well as several grandchildren, bringing to 14 the total number
of Morrison family members who are Drake graduates.
At 94 years old, Paul Morrison remains a treasure to the Drake
community. For generations to come, all who travel along, or cross, Paul
F. Morrison Way will know the special place he holds in Drake's
history.