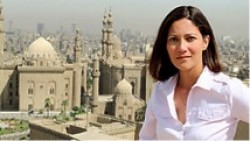 Image from "How Facebook Changed the World: The Arab Spring"
Facebook and social media have altered society, but at no time in history was this more apparent than during 2011's Middle East revolutions. For a glimpse into this tumultuous time, The Principal Financial Group Center for Global Citizenship and Drake's Engaged Citizen Experience will show the documentary "How Facebook Changed the World: The Arab Spring" on Feb. 15. The showing takes place from 7 "" 9 p.m. at Bulldog Theater in the Olmsted Center and is free and open to the public.
This timely documentary investigates how social media influenced the Arab Spring and fanned the winds of political and social change from Tunisia to Egypt, Bahrain to Libya. Using video and still photographs shot on mobile phones, How Facebook Changed the World reveals how revolutions of the 21st century are being driven by the blogging, Facebooking and tweeting generation. For the first time in history, men and women on the street recorded world-changing events hour-by-hour. A unique filmed record now exists charting the downfall of tyrants in Tunisia, Egypt and Libya, exposing the unimaginable brutality of embattled regimes in other parts of the Arab world.
This is one of several events being held by the Principal Financial Group Center for Global Citizenship in the Spring 2012 semester. For a full listing of events, visit https://wwww.drake.edu/international/cgc/eventss12.php