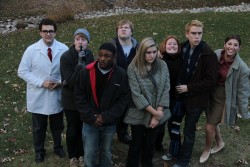 "The Flu Season" cast
Drake University Theatre's production of Will Eno's "The Flu Season," directed by Forrest Williams, opens Thursday, December 1.
"The Flu Season is about love in a mental institution," said Williams, who produced the show as part of his senior capstone project. "It is a combination of genuine American realism with a dash of the absurd and an ancient Greek chorus "" without the boring parts."
"The Flu Season" premiered in 2003 at the Gate Theatre in London, and was later produced by the Rude Mechanicals Theatre Company at The Blue Heron Arts Center in New York City. The show won Eno an Oppenheimer Award for best debut production in 2004.
Although set in a mental hospital, Williams explained that the production is not an indictment of the health care system, but rather a representation of people in constrained circumstances.
This show is recommended for mature audiences only. It contains adult content and strong language.
Performances will be held at 8 p.m. Dec. 1, 2 and 3, and 2 p.m. Dec. 4 in Studio 55 in the Harmon Fine Arts Center, 2505 Carpenter Ave.
The show is open to the public. Admission is free. Reservations may be made in person or by calling the Drake Fine Arts Center Box Office at 515-271-3841.