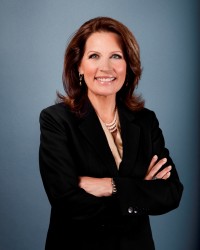 Presidential candidate Michele Bachmann will visit the Drake University campus today, Thursday, Nov. 17.
Bachmann, a Representative for Minnesota's 6th Congressional District, will meet with the campus community at 10 a.m. in the Pomerantz Stage area of Olmsted Center, 29th St. and University Ave.
Elected in 2006, Congresswoman Bachmann is the first Republican woman to be elected to the U.S. House of Representatives from Minnesota. In 2010, she led the first meeting of the Tea Party Caucus. She is a graduate of Anoka High School and Winona State University, and received her J.D. at the O.W. Coburn School of Law at Oral Roberts University and an L.L.M. in tax law at the College of William and Mary. She and her husband Marcus have been married for more than 30 years and have five children.
Bachmann's appearance on campus is sponsored by the Drake University College Republicans.
Please contact Professor Rachel Paine Caufield in the Department of Politics and International Relations with questions: 515-271-1924 or rachel.caufield@drake.edu. ҬӬ
Drake University is committed to an open and productive exchange of ideas, allowing free and informed discussion of political affairs. As a tax-exempt educational institution, Drake University does not endorse or oppose any party or candidate for public office.
For more information, please visit the candidate's website at http://bachmann.house.gov/.