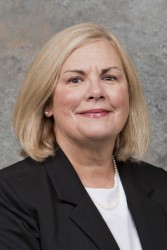 Deborah Newsom
President David Maxwell, on behalf of Drake University, is pleased to announce the appointment of Deborah Newsom to the position of Vice President of Business and Finance/Treasurer, effective June 1. Reporting to the President, Newsom will lead the Business and Finance Division, which includes approximately 20 essential operating functions and 360 employees. She will oversee a University budget of approximately $125 million, an endowment portfolio in excess of $150 million and a 140-acre physical plant with 60 buildings.
"Debbie Newsom brings substantial higher education experience and professional expertise to her new position at Drake University," said President Maxwell. "It became clear to all of us during the search process that she has all of the skills, ability and knowledge to not only manage the University's finances and administrative operations, but to serve as an integral part of the University's leadership team in moving us forward as one of the country's premier master's university's. I am very pleased that she is coming to Drake to build on Vicky Payseur's considerable legacy."
Newsom brings to Drake extensive experience as a senior financial administrator within higher education. Her expertise in financial management and administration makes her an excellent fit for the position. Newsom's areas of expertise include: financial planning and reporting, budgeting, strategic planning, endowment and investment administration, capital planning and financing, human resources, business enterprises and not-for-profit taxation.
"Ms. Newsom's broad background and her past achievements made her an exceptional candidate," said Klaus Bartschat, search committee chair and Ellis and Nelle Levitt professor of physics. "I am sure she will relate well with the faculty and all constituents of Drake University."
Newsom joins Drake from Eastern Kentucky University in Richmond, Ky. where she has served as Vice President for Financial Affairs and Treasurer for the past eight years. Prior to her work for EKU, Newsom served a total of 18 years in private/not-for-profit institutions: Vice President for the University of Virginia Darden School Foundation, Vice President for Finance at Berea College, and Controller at Centre College. She worked in public accounting prior to her service in higher education. Newsom earned her Bachelor of Business Administration and a Master of Business Administration degree from Eastern Kentucky University. She is a Certified Public Accountant licensed in North Carolina and Kentucky.
"Drake's academic reputation and its focus on combining the liberal arts with professional education prompted me to further explore this position," Newsom said. "I have been very impressed with the dedication of the Drake community to the University's mission and the spirit of collaboration which is evident throughout the campus."
Newsom will succeed Victoria Payseur, who in January of 2011 announced her plans to retire this spring after 14 ½ years of extraordinary service to the University. Despite a national economic downturn, the University has produced a surplus budget for the last seven years allowing for capital improvements to campus learning and living facilities totaling $96 million and a significant reduction in deferred maintenance. Ms. Payseur led the University in connecting the budgeting process to the University's strategic plan. Sound fiscal management also provided for considerable increases in faculty and staff salaries as part of a comprehensive compensation project.
Drake is a private, independent university in Des Moines, Iowa, with an enrollment of approximately 5,600 students from 50 states and 50 countries. Founded in 1881, Drake's mission is to provide an exceptional learning environment that prepares students for meaningful personal lives, professional accomplishments and responsible global citizenship. The Drake experience is distinguished by collaborative learning among students, faculty and staff and by the integration of the liberal arts and sciences with professional preparation.