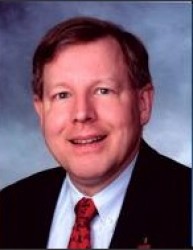 Todd Janus
Neurologist and Drake University alumnus Todd Janus will talk about his life and work experiences as part of the Life After Drake Speaker Series on Tuesday, Nov. 15.
The lecture, which is free and open to the public, is titled "Life
in Science and Medicine After Drake." The event will begin at 7 p.m. in
the Performing Arts Hall in the Harmon Fine Arts Center, 2505 Carpenter
Ave.
Janus is director of clinical research and the Comprehensive Multiple Sclerosis Clinic at Iowa Health Physicians in Des Moines.
He has conducted research studies in the treatment and prevention of
multiple sclerosis, malignant brain tumors, prostate cancer and primary
central nervous system lymphoma.
After spending six years as an assistant professor at the University
of Iowa, Janus became medical director at Abbott Laboratories. He has
taught in residency programs at Iowa Methodist Medical Center, the
University of Iowa and Rush Medical College.



As a senior fellow for the American Academy of Neurology and a
Palatucci Fellow for Patient Advocacy, Janus specializes in health
insurance appeals. Last year, he successfully sponsored a state
legislative amendment in order to improve patient protection in Iowa.
Janus graduated from Drake in 1977. He earned his medical degree
from Rush Medical College and his doctorate in biochemistry from
Northwestern University.
The Life After Drake Series brings to Drake successful math and
science alumni to celebrate their accomplishments. The series also gives
students the opportunity to network with alumni in these fields.