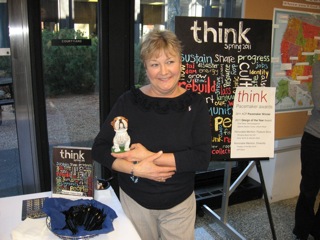 SJMC administrative assistant Shari Tenney was honored with Drake's "Called to be True Blue" award for November.
Shari's nomination said, "Shari consistently goes above and beyond the barebones of her job responsibilities to further the Drake mission, to provide excellent service to faculty, and to help create an exceptional learning environment for Drake students. Manning the front desk at the School of Journalism and Mass Communication in Meredith Hall, Shari not only keeps the SJMC running smoothly, but she is sometimes the first person to greet visitors to Drake. She embraces an ethic of lifelong learning. … Shari is clearly a 'true blue' member of the Drake community whose work represents the essence of collaboration among faculty, staff and students."
Congratulations to Shari!