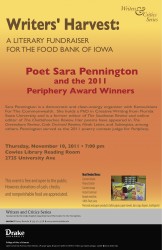 Poet Sara Pennington and the 2011 Periphery award winners will host a poetry reading on Thursday, November 10 at the Drake Writer's Harvest, a literary fundraiser for the Food bank of Iowa.
The event, which is free and open to the public, will begin at 7 p.m. in the Cowles Library Reading Room, 2725 University Ave.
Attendees are encouraged to bring donations in the form of cash, check, or nonperishable food item for the Food Bank of Iowa, a private, non-profit charitable organization whose mission is to alleviate hunger through food distribution, partnership, and education. More information on the organization and a list of their most needed items can be found on their website.
Pennington, a democratic and clean-energy organizer with Kentuckian For The Commonwealth, will read selections of her poetry at the event. She is a former editor of The Southwest Review and online editor of The Chattahoochee Review, and her poems have appeared in The Greensboro Review, Crab Orchard Review, Ninth Letter, and Subtropics, among others. She holds a PhD in Creative Writing from Florida State University.
Pennington served as the 2011 judge for Drake's Periphery Awards from Periphery magazine, Drake's student-run art and literary journal.
The winners of the Periphery awards will join Pennington in sharing selections of their work at the Writer's Harvest event. This year's winners in prose were Matt Haupert and Frank Merchlewitz; the winners in poetry were Heather Reading and Matt Nelson.
The event is part of Drake's Writers and Critics Series, which is sponsored by the Drake English Department and made possible by a grant from the Drake University Center for the Humanities.
To view the event poster and a complete list of upcoming events in the series, visit the Writers and Critics Series website.
For more information on the series, contact Nancy Reincke at 515-271-3778, or nancy.reincke@drake.edu.