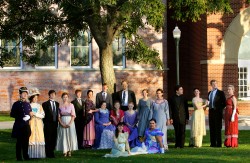 The Drake University A Little Night Music" cast.
Drake University Theatre's production of Stephen Sondheim's "A Little Night Music" opens Thursday, Nov. 10, 2011. The show is directed by Deena Conley, associate professor of theatre arts.
Set in Sweden at the turn of the century, "A Little Night Music" follows the relationships of several couples as they transition through life. With music and lyrics by Stephen Sondheim and the book by Hugh Wheeler, "A Little Night Music" is a series of intertwined love sagas complimented by harmonious music.
"'A Little Night Music is' a romance about being in love, staying in love and holding onto it once you have it." Conley said. "The overlaying message of this show is that at the end of the day you have to follow your gut and follow your heart."
Conley said the show is very challenging vocally, but the cast has risen to the challenge.
"A Little Night Music" premiered at the Shubert Theatre in New York in 1973, winning the New York Drama Critics' Circle Award and the Tony Award for Best Musical. It was revived on Broadway again in 2009 and was subsequently nominated for best revival of a musical and outstanding revival of a musical.
This show is recommended for mature audiences only. It contains adult content, strong language, and the use of non-tobacco cigarettes.
Performances start at 8 p.m. Nov. 10 -12, and at 2 p.m. Nov. 13, in the Performing Arts Hall of the Harmon Fine Arts Center, 2505 Carpenter Ave.
Admission is $6 for adults, $4 for seniors and students with a Drake ID. Tickets can be reserved by calling the Drake Fine Arts Box Office at (515) 271-3841.