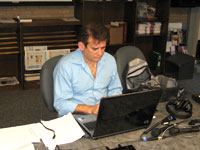 WHO-AM talk show host Simon Conway brought his 4 – 7 p.m. program to Drake, Nov. 1. Conway described himself as "a conservative and proud of it."
During his three-hour remote, Conway questioned a roundtable consisting of three Drake Law students and one politics junior. He also took telephone calls.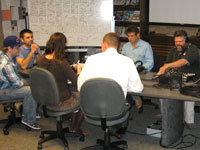 A broadcast-quality ISDN telephone line carried the origination from the Kragie-Newell Interactive Media Lab to Clear Channel-owned WHO-AM. Commercials, and news, sports, weather and traffic updates aired from the WHO studios on Grand Avenue.
Communication about spot breaks, telephone callers and other information was conveyed both by Internet and voice. The program typically airs with a 7-second delay, according to engineer John Sellers. He controlled levels on the five remote microphones and a small sound system that served a live audience.
London-born Conway began working in 1976 for the Jerusalem Post. He became a U.S. citizen in 2008.
Prior to joining NewsRadio 1040 earlier this year, Conway guest-hosted talk radio in many cities, including Minneapolis, San Diego and San Antonio.
A self-described "Equal Opportunity hater," Conway said following the program that he intends to take his program to Iowa State University, the University of Iowa and the University of Northern Iowa later this month.