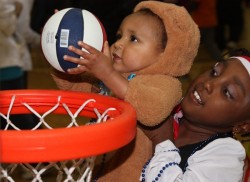 Drake's 18th annual Halloween Hoops celebration will be held on Monday, October 31, from 6:30-8 p.m. at the Drake University Bell Center, 1421-27th St. The event is free and open to Des Moines area children aged 3-12 and their parents.
Halloween Hoops is a fun and festive evening that features games, pizza, pop, piñatas and, of course, Halloween candy and costumes. See some of the fun from last year's event in this photo gallery.
Drake law professor David Walker and Drake basketball legend Dolph Pulliam will team up to host the event, which is co-sponsored by the Drake Law School Student Bar Association and the Des Moines branch of the NAACP. It's a chance for students to welcome neighbors to campus and connect with the community.
Attendees are asked to register through Karen Matysik, 515-271-2389 or karen.matysik@drake.edu by Thursday, October 27. Children attending through a youth organization do not need to RSVP individually.