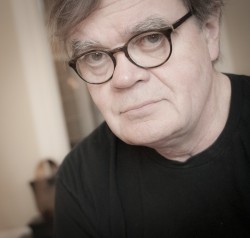 Photo courtesy of Claudia Danielson
Garrison Keillor, acclaimed host of "A Prairie Home Companion" and best-selling author, will speak at Drake University's Knapp Center on Tuesday, October 25, 7 p.m., as part of the Martin Bucksbaum Distinguished Lecture series.
Keillor kicked off "A Prairie Home Companion" to a crowd of about 12 at Macalester College in Saint Paul, Minn. on July 6, 1974. Since that tepid start, his audience has grown to more than 4.3 million weekly listeners on close to 600 public radio stations across the U.S.
Beyond radio and print, Keillor played himself in the 2006 movie adaptation of his show, "A Prairie Home Companion." The star-studded cast included Meryl Streep, Lily Tomlin, Lindsay Lohan, Woody Harrelson, John C. Reilly and Tommy Lee Jones.
Those attending "An Evening with Garrison Keillor" will be treated to the host's characteristically Minnesotan sense of humor and matter-of-fact style.
"Nothing you do for children is ever wasted," Keillor wrote in "Leaving Home" (Penguin, 1987). "They seem not to notice us, hovering, averting our eyes, and they seldom offer thanks, but what we do for them is never wasted."
Keillor is the recipient of Grammy, ACE, and George Foster Peabody awards, and he has been inducted into the American Academy of Arts and Letters. His books include "Lake Wobegon Days," "The Book of Guys," "Lake Wobegon Summer 1956," "77 Love Sonnets," "Pilgrims: A Wobegon Romance," and "A Christmas Blizzard."
Keillor is a member of the American Academy of Arts and Sciences, and recently was presented with a National Humanities Medal by the National Endowment for the Humanities. In 1994, he was inducted into the Radio Hall of Fame at Chicago's Museum of Broadcast Communications.
To get Des Moines excited for Keillor's visit, three local restaurants are offering specials in honor of the storyteller.
There won't be any "Powdermilk Biscuits," "Bebopareebop Rhubarb Pie" or other favorites from Keillor's "A Prairie Home Companion" on the menu, but Gusto Pizza Co., Mars Café and Woody's Smoke Shack are proud to offer their own crafty concoctions in honor of the beloved public radio host.
Special offers and dates are as follows:
* Gusto Pizza Co., 1905 Ingersoll Ave.: Wobegon Hot Dish Pizza (biscuits, tater tots, hamburger, bacon and American cheese with a side of ketchup), Oct. 20″"26
* Mars Café, 2318 University Ave.: $3 large spiced apple cider, Oct. 23″"25
* Woody's Smoke Shack, 2511 Cottage Grove Ave.: 10 percent off any meal deal, Oct. 24″"28
Keillor's lecture will build on Drake University's tradition of bringing engaging, thought-provoking evenings to the Des Moines community. Previous lecturers include Bob Costas, Jane Goodall, Salman Rushdie, Bill Bryson, Maya Angelou and, most recently, Twyla Tharp, legendary dancer, choreographer and author.
For more information about Keillor's lecture, visit www.drake.edu/bucksbaum or call 515-271-4990.