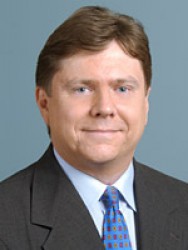 Jim Walsh, an international security expert, will give a lecture on nuclear weapons and terrorism at 7:30 p.m. on Monday, Oct. 24
The event, which is free and open to the public, will take place in Bulldog Theatre, located inside the Olmsted Center at 2875 University Ave.
Walsh is a research associate at the Massachusetts Institute of Technology's Security Studies Program. His expertise is in national security, terrorism and nuclear weapons, and he has testified before the U.S. Senate regarding nuclear terrorism and Iran's nuclear program.
Walsh is one of a handful of Americans who has also travelled to both Iran and North Korea to discuss nuclear issues with officials. His comments and analysis have appeared in numerous national and international media outlets including, The New York Times, Washington Post, Wall Street Journal, and The Times of London.
The lecture is sponsored by the Principal Financial Group Center for Global Citizenship at Drake University and the National Security Network. The Center sponsors more than 35 public events each year to accomplish the organization's goal of educating students to function effectively in different cultural contexts, and to see their own culture from the perspective of others.
A list of fall 2011 events sponsored by the Center is available online: https://wwww.drake.edu/international/cgc/eventsf11.php.
For more information, contact David Skidmore at 515-271-3843 or david.skidmore@drake.edu.