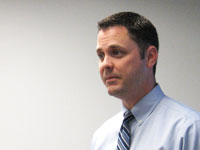 WHO-TV feature reporter and KXNO sports talk co-host Andy Fales screened several of his favorite reporting samples with the JMC100 Television Field Photography class, Oct. 24.
A 1993 Drake English graduate, Fales returned to Channel 13 early in 2008 following six months with KMBC (TV) sports, Kansas City. He also resumed his work as co-host of WHO-TV's popular "SoundOff" program, Sunday nights at 10:35.
Following graduation, Fales held radio and newspaper positions. His first television experience came in 1998 in Rhinelander, WI.
Fales' class presentation concentrated on how video, sound and words complement one another in the effective feature story. He urged students to build their stories, a layer at a time, and include a surprise or two along the way.
JMC100 is a core requirement for Radio-Television Producing and Broadcast News students. It's typically completed during the junior year.