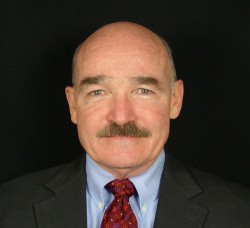 On Thursday, October 20, retired U.S. Navy Vice Admiral Dennis McGinn will deliver a lecture titled "National Security and Iowa's Energy Future" at Drake University.
The event, which is free and open to the public, will begin at 7 p.m. in Bulldog Theatre in Olmsted Center, at 2875 University Ave.
McGinn served for 35 years in the Navy as a naval aviator, test pilot, aircraft carrier commanding officer and national security strategist. Most recently, he worked in the Pentagon as the Deputy Chief of Naval Operations for Warfare Requirements and Programs.
He is now the president of the American Council on Renewable Energy. The focus of Thursday's lecture is McGinn's expertise in national security and its relationship with renewable energy.
McGinn also serves on CNA's Military Advisory Board, comprised of the top retired military generals and admirals. The Board was among the first to recognize the country's energy situation as a matter of economic and national security.
The lecture is sponsored by the Principal Financial Group Center for Global Citizenship at Drake University. The Center sponsors more than 35 public events each year to accomplish the organization's goal of educating students to function effectively in different cultural contexts, and to see their own culture from the perspective of others.
A list of fall 2011 events sponsored by the Center is available online: https://wwww.drake.edu/international/cgc/eventsf11.php.
For more information, contact David Skidmore at 515-271-3843 or david.skidmore@drake.edu.