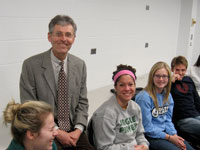 Iowa Public Radio's Rick Fredericksen told JMC73 Radio News students he's been "lucky" several times during his 42-year broadcasting career.Fredericksen's resume includes 12 years co-anchoring for KRNT (later KCCI) television, almost as many years at the CBS affiliate in Honolulu and three years as CBS Bureau Chief in Thailand.
While beginning his career in Des Moines on the early shift at KRNT radio, Fredericksen said he took some classes at Drake.
A Des Moines native, Rick joined the WOI Radio Group in 1997 as news director. He currently works for Iowa Public Radio, a consolidation of public stations at Iowa State University, the University of Iowa and the University of Northern Iowa.
Fredericksen works out of IPR's network headquarters in Des Moines. During class he played and analyzed several of his recent "long-form" feature pieces aired on IPR.
Fredericksen told students he enlisted in the Marines after high school, learned broadcast journalism at the Defense Information School in Indianapolis and served in Viet Nam for American Forces Network.
The D-J on Rick's news shift? "Wheel of Fortune" host Pat Sajak.