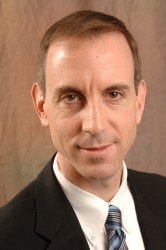 Eric Posner
The Drake University Constitutional Law Center will host an upcoming lecture by Eric Posner, Kirkland and Ellis professor of law at the University of Chicago. Posner's speech is titled "The Executive Unbound: After the Madisonian Republic," after his most recent book, which was co-authored with Harvard Law professor Adrian Vermeule (Oxford, 2011). The book postulates the American separation of powers outlined in the Constitution no longer correspond to reality, and that executive power in our administrative state has few rule of law limitations.
The event, which is part of The Constitutional Law Center Distinguished Lecture Series, will be held 3 p.m. Thursday, Oct. 20, in room 213 of Cartwright Hall, 2621 Carpenter Ave. It is free and open to the public.
Eric Posner is a graduate of Yale College and Harvard Law School. He teaches international law, foreign relations law, contracts, employment law, bankruptcy law, secured transactions and game theory at The University of Chicago Law School. His latest research focuses on international law, immigration law and foreign relations law.
In addition to The Executive Unbound, Posner has authored: Climate Change Justice (with David Weisbach) (Princeton, 2010); The Perils of Global Legalism (University of Chicago, 2009); Terror in the Balance: Security, Liberty and the Courts (with Adrian Vermeule) (Oxford, 2007). He is also an editor of the Journal of Legal Studies and a fellow of the American Academy of Arts and Sciences. Furthermore, Posner reviews books for The New Republic.
For more information, please visit www.law.drake.edu/academics/conLaw or contact The Drake University Constitutional Law Center, 515-271-2988.