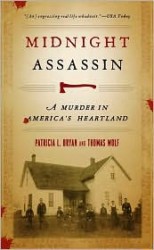 Author Patricia Bryan will discuss her book "The Midnight Assassin: A Murder in America's Heartland" at 7 p.m. October 20. The event, which will take place in Drake University's Cowles Library Reading Room, 2725 University Ave., is free and open to the public.
"The Midnight Assassin," co-authored by Thomas Wolf, is a non-fiction account of the infamous murder investigation and trial of Margaret Hossack, who was accused of killing her husband with an ax while he slept on December 2, 1900. Hossack defended her innocence throughout two trials and the endless speculation of locals in their small rural town in Warren County, Iowa.
Bryan and Wolf have researched the murder, investigation and trials for nearly a decade. In "The Midnight Assassin," the duo specifically highlights the work of Davenport native and 1899 Drake graduate Susan Glaspell, who covered the murder for the Des Moines Daily News and coined the term "the midnight assassin."
Soon after the trials, Glaspell left the paper to begin a career as a playwright and novelist. Her 1916 one-act play Trifles and 1917 short story "A Jury of Her Peers" were both based on the Hossack murder. In 1997, Bryan wrote an article titled "Stories in Fiction and in Fact: Susan Glaspell's A Jury of Her Peers and the 1901 Murder Trial of Margaret Hossack," which appeared in the Stanford Law Review.
The Midnight Assassin has received national critical acclaim for its in-depth analysis of the Hossack case as well as the portrayal of small-town life in the Midwest at the turn of the century. In 2006, State Historical Society of Iowa selected the book as a Shambaugh Award Finalist for "its contribution to knowledge about Iowa history."
Bryan is a St. Louis native and graduated from the University of Iowa College of Law in 1976. Visit www.midnightassassin.com for more information about the book.