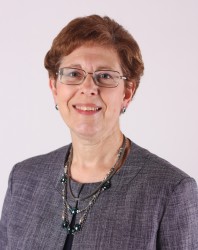 Dr. June Johnson, chair of the
clinical sciences department in the Drake University College
of Pharmacy & Health Sciences, was recently inducted as a 2011 Fellow of the American College
of Clinical Pharmacy (ACCP).
Candidates for ACCP Fellow undergo a
comprehensive and rigorous evaluation by the Credentials: Fellowship Committee
of their practice and research accomplishments. Among the criteria evaluated by
the committee are examples of patient care service or educational programs
developed by the nominee; certifications or other credentials earned; drug
therapy management responsibilities; educational presentations;
consultantships; service to publications; original research presentations,
projects, funding, and publications; and other professional activities and
awards.
Dr. Johnson joined
the Drake CPHS faculty in 1995 after serving as clinical pharmacy specialist in
geriatrics at Rochester General Hospital in Rochester, New York. Prior to her career at Drake, she was on the
pharmacy faculty for State University of New York at Buffalo. In 2010, Dr.
Johnson was promoted to Professor of Pharmacy Practice.
Dr. Johnson's work
extends beyond the academic community as well. Her current clinical pharmacy
practice site is the Iowa Diabetes and Endocrinology Research Center in Des
Moines. Her role as faculty preceptor and coordinator for Camp Hertko Hollow youth diabetes camp connects classroom lessons with impactful, interactive experiences
between students and patients. Other
rotations established under her guidance while at Drake include an
endocrinology specialty with Children's
Health Center, Blank Children's Hospital and an international opportunity in
Belize.
Fellows were recognized during a special ceremony on October 16 at the ACCP
Annual Meeting in Pittsburgh, Penn. This status is awarded to ACCP members who
have demonstrated a sustained level of excellence in clinical pharmacy practice
and/or research. A fellow can be recognized by the initials "FCCP" as part of
his or her title.
The American College of Clinical
Pharmacy (ACCP) is a professional and scientific society that provides
leadership, education, advocacy, and resources enabling clinical pharmacists to
achieve excellence in practice and research.
Johnson's recognition as an ACCP
Fellow follows that of Professor Geoffrey Wall in
2008 and Dean Raylene Rospond in 2002.