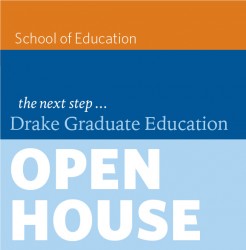 Learn more about School of Education graduate programs.
Discover the Drake difference at an open house hosted by the Drake University SOE.
At Drake, graduate education is about more than the acquisition of skills and competencies – it's about transformation.
The School of Education offers programs for teachers, administrators, trainers, human resource personnel, leaders and counselors. Its programs are convenient, practical and professional.
Attend an open house:
Tuesday, November 8 from 4-6 p.m. or
Wednesday, November 9 from 4-6 p.m.
Drake University School of Education
3206 University Avenue, Des Moines
For further information, contact Jared McCarty by email or call 515-271-2552.