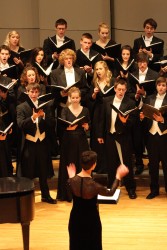 The Drake Chamber Choir will perform two collaborative concerts with the
Des Moines Vocal Arts Ensemble this month. Titled "Ever Ancient, Ever New," the
events celebrate the centennial of the Diocese of Des Moines.
The concerts, which are free and open to the public, will be held:

* Saturday, Oct. 8 — 7:30 p.m. at St. Ambrose Cathedral, 607 High Street, downtown Des Moines.

* Sunday, Oct. 9 — 4:00 p.m. 106 West 6th Street, Atlantic, Iowa.
Aimee Beckmann-Collier serves as director of choirs and professor of conducting at Drake.
"The Des Moines Vocal Arts Ensemble is Des Moines' only
community-based choir dedicated to chamber music-making,"
Beckmann-Collier said. "Our Drake Chamber Choir also exists to explore
chamber repertoire and to provide our most skilled choral singers with
the opportunity to rehearse and perform in a chamber setting, so the
collaboration between these two groups is a terrific musical marriage."
The ensembles will perform Gabriel Fauré's "Requiem," a well-known
choral work written in the late 19th-century, and premiere a recently
commissioned work written by contemporary American composer David
Dickau. The new piece is a choral setting of a text created by
13th-century poet Mechtild of Magdeburg.
"The Fauré Requiem is music of remembrance," Beckmann-Collier said.
"The newly-commissioned piece helps us to look forward. Together, they
will allow the audience to reflect on foundations and traditions, as
well as the future."
For more information, contact Beckmann-Collier at 515-271-2841 or aimee.beckmann-collier@drake.edu.