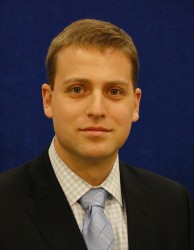 Brian Fishman
On Monday, Oct. 10, national security expert Brian Fishman will deliver a lecture titled "Combating Terrorism: Lessons Learned" at Drake University.
The event, which is free and open to the public, will begin at 7:30 p.m. in Bulldog Theatre in Olmsted Center, 2875 University Ave.
Fishman serves as counterterrorism research fellow at the New America Foundation and research fellow at the Combating Terrorism Center (CTC) at West Point.
He previously served as a professor at West Point and as the CTC's director of research, and he is a founding editor of the military academy's monthly journal, the CTC Sentinel.
As a security expert, Fishman has contributed to national and international media outlets, including The New York Times, The Washington Post, National Public Radio, NBC Nightly News and Fox News.
He received his bachelor's degree from the University of California Los Angeles and his master's degree from Columbia University.
The discussion is co-sponsored by The Principal Financial Group Center for Global Citizenship and the National Security Network.
The Center sponsors more than 35 public events each year to accomplish the organization's goal of educating students to function effectively in different cultural contexts, and to see their own culture from the perspective of others.
A list of fall 2011 events sponsored by the Center is available online: https://wwww.drake.edu/international/cgc/eventsf11.php.
For more information, contact David Skidmore at 515-271-3843 or david.skidmore@drake.edu.