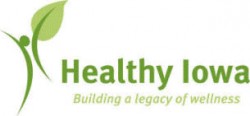 Drake University will be celebrated among the healthiest schools, organizations and individuals in the state at the third annual Healthy Iowa Awards on October 20.
The Healthy Iowa Awards are presented by the Academy for a Healthy Iowa, which is a collaborative effort among the Iowa Department of Public Health, Governor's Council on Physical Fitness and Nutrition and Wellness Council of Iowa.



The award will be presented at the Healthy Iowa Awards at the Hy-Vee Conference Center in West Des Moines on October 20. The event, which begins at 5 p.m., is made possible in part by support from UnitedHealthcare.
"This ceremony is just so inspiring and rewarding for everyone interested in health issues," said Craig Hanken, executive director of the Wellness Council of Iowa. "It's a testament to the pride and dedication people across our state have to make Iowa the healthiest state in the nation."
Award winners are selected based on providing access to wellness, programming, financial commitment, measurability and sustainability. Winners retain the "Healthy Iowa" designation for three years at which point they must reapply.
Prior to the awards banquet, the state's most innovative wellness professionals will gather for the Healthy Iowa Conference: Creating a Culture of Wellness.
The event will feature speakers Dan Buettner, author of "The Blue Zones," Ben Leedle, president of Healthways, Inc., Lee Dukes, president of Principal Wellness Company, James Curleigh, president of Keen, Paig Craig, president of BetterWorks, and OneBody3. The conference is sponsored by Wellmark, Healthways, Hy-Vee, and the Partnership for Better Health.
Visit www.wellnessiowa.org to learn more.