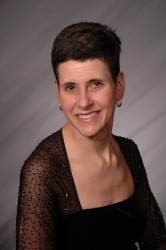 Aimee Beckmann-Collier
Metro Women's Network will honor Dr. Aimee Beckmann-Collier, professor of conducting and director of choral music, as their Woman of the Year for her outstanding achievements in music education and community involvement.
The award will be presented at a dinner event held on October 20 at the Hyperion Field Club in Johnston. Tickets are available through Metro Women's Network before October 18.
Dr. Beckmann-Collier also directs the Drake University/Community Chorus and is frequent clinician, adjudicator and guest conductor for high school and college choral festivals and contests throughout the country. She is the president-elect of the North Central Division of the American Choral Directors Association (ACDA) and previously served the organization in several capacities. Dr. Beckmann-Collier has received the first Distinguished Music Alumna Award from her alma mater, Saint Mary's College, Notre Dame, Indiana, as well as numerous other honors, including the Madelyn Levitt Distinguished Community Service Award.
Metro Women's Network is a unique organization that, for more than 30 years, has served as a vehicle for women in the greater Des Moines area to find and support each other in business, social, and personal endeavors. Contact mwniowa.org for more information. Meetings are usually held the third Thursday of the month at a different location and include networking, dinner, and a speaker from the community.