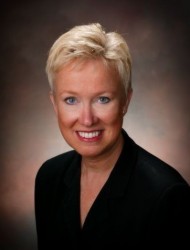 Susan Moritz
On Wednesday, Oct. 5, Drake University's fall 2011 'Let's DU Lunch' speaker series will continue with a discussion led by Susan Moritz, president of the Iowa Public Television Foundation. The presentation will focus on the new realities of public media.
The event, sponsored by Drake University and the Greater Des Moines Partnership, will be held at the Des Moines Club on the 34th floor of the Ruan Building, 666 Grand Ave.
Each luncheon costs $17. A special young professional rate of $13 per luncheon is available for those who are 35 and under. Networking begins at 11:30 a.m. Lunch and the presentation run from noon to 1 p.m.
Moritz, a graduate of the University of Iowa, has served as a board member for the Association of Fundraising Professionals, the Public Broadcasting Service Foundation and the West Des Moines Community School District. She has previously worked with the American Lung Association of Iowa, Wesley Retirement Services and The Grand Group.
The Iowa Public Television Foundation is a separate, nonprofit, fundraising entity that aims to foster giving to Iowa Public Television (IPTV) through the building of a strong statewide membership base. Foundation members are committed to the development, growth and support of IPTV and provide nearly 90 percent of the out-of-pocket costs of acquiring and producing general audience programming.
The final 'Let's DU Lunch' program will take place on Wednesday, Nov. 2. Jean Groben, owner of Jasper Winery, will deliver a lecture on the challenges and rewards of operating a Newton-based winery that utilizes Iowa grown grapes.
Registration is highly recommended due to limited seating. Visit www.alumni.drake.edu/letsdulunch to register. For more information, contact the Office of Alumni and Parent Relations at 515-271-2500.