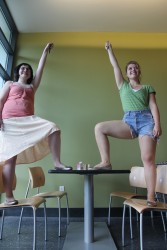 Dog Sees God cast members April Culver and Kailey Hopkins
The Drake University Theatre production of "Dog Sees God: Confessions of a Teenage Blockhead" opens Thursday, Sept. 29 in the Studio Theatre of the Harmon Fine Arts Center, 2505 Carpenter Ave. Performances begin at 8 p.m. Sept. 29 through Oct. 1, with a final 2 p.m. performance Oct. 2.
Set in a contemporary high school, "Dog Sees God" addresses issues of discovering ones identity by employing characters similar to those in the popular Peanuts cartoon.
This show is recommended for mature audiences only. It contains adult content, strong language and the use of non-tobacco cigarettes.
"Dog Sees God" was written by Bert V. Royal and premiered at the New York International Fringe Festival in 2004, winning the Excellence Award for Best Overall Production. Royal also received a GLAAD Media Award for "Dog Sees God".
The Drake production will be directed by Michael Rothmayer, associate professor of theatre arts.
"The Peanuts characters are not simply a parody," Rothmayer said. "They're a metaphor for how much and how quickly times have changed. 'Dog Sees God' is a play about the search for who you are and the acceptance of where that search takes you."
Dog Sees God has not been authorized or approved in any manner by the Charles M. Schulz Estate or United Features Syndicate, which have no responsibility for its content.
Admission is $5 for adults, $3 for students and seniors, and $1 for students with a Drake ID. Reserve tickets by calling the Drake Fine Arts Box Office at (515) 271-3841.