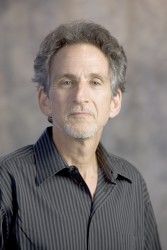 Jody Swilky
Jody Swilky, professor of English, will give the annual Luther W. Stalnaker Lecture at 7 p.m. on Wednesday, Sept. 21.
The lecture, titled "Composing Culture: Working with Words and Images" is free and open to the public and will take place in Sheslow Auditorium in Old Main, 2507 University Avenue. A reception will follow in Levitt Hall.
In the lecture, Swilky will address how changes in his personal work over the past three decades reflect development in English studies and represent cultural shifts.
"My work has increasingly challenged traditional distinctions between the work of the writer and the critic, between concepts of "˜high' vs. "˜mass' culture and between literary and popular writing," said Swilky, who also serves as coordinator of writing at Drake.
He will also discuss his recent projects in documentary filmmaking, which have received grants from Humanities Iowa, Iowa Arts Council and the Bock Family Foundation. Swilky said his films, which attempt to address academic and broader
audiences alike, have produced ethical and aesthetic challenges
concerning collaboration and representations of culture.
His 2007 film, "A Little Salsa on the Prairie: The Changing Character of Perry, Iowa," received the Cedar Rapids Independent Film Festival's highest documentary prize, The Gold Eddy.
Swilky, who joined Drake's faculty in 1988, teaches courses on language theory, writing, cultural criticism and filmmaking. He is the recipient of the 2001 College of Arts and Sciences Outstanding Teacher of the Year Award.
In 2002, he received the Madelyn Levitt Teacher of the Year Award, the University's highest faculty honor.
Swilky's research interests include educational reform and writing studies. He received his bachelor's degree from the State University of New York at Geneseo, his master's degree from the University of Iowa and his doctorate from the State University of New York at Albany.



The lecture series, now in its 27th year, honors the memory of Luther W. Stalnaker, dean of the College of Liberal Arts from 1940 to 1954. It was endowed by gifts from the Stalnaker family and emeriti faculty and receives continuing support from the College of Arts and Sciences.